2010: Empowering the Native Vote in Nevada's 2010 Midterm Election
The Problem
Lower turnout so often mars midterm elections – and with a competitive U.S. Senate election in Nevada in 2010, the growing Native vote could make a vital difference again. Would the Native vote tip the balance for Nevada in 2010 as it did for South Dakota in 2002?
The Solution
Four Directions was brought in at the request of the Intertribal Council of Nevada, the intertribal organization representing the 27 Tribes in Nevada, to run two Native GOTV efforts: a Tribal- only reservation program in which we were the sole group operating in Indian Country and a Las Vegas operation in which we partnered with America Votes.
Las Vegas Operation
Four Directions had already leased a GOTV staging area in a diverse community of Native Americans, Latinos, and African American voters that ended up being used as the GOTV headquarters. The Las Vegas operation was a canvassing operation that focused on contacting voters at their home, encouraging them to vote and if not home, leaving GOTV literature. These households were contacted as many as five times in the 10 days leading up the election.
The Results
The Four Directions program provided a strong increase in voting performance as illustrated on the next page. If the other 40 percent of the data is similar, along with precincts diluted with non-Native voters, it would mean that even outside of the efforts in Las Vegas, the program resulted in roughly 1,200 additional Native voters in the identified precincts – and likely more than 2,000 extra Native voters program-wide within the reservation-only segment.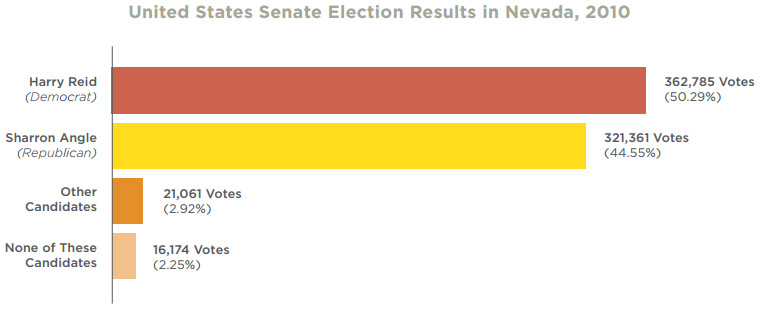 Election results Nevada 2010
Community
County
Precinct
Avg. Turnout
2010
% Increase
Washoe/Carson Colony
Carson City
409
880
906
2.95
Washoe/Stewart Community
Carson City
407
666
748
12.40
Pyramid Lake
Washoe
7412
233
274
17.85
Reno Sparks
Washoe
7300
67
101
50.75
Pyramid Lake
Washoe
7409
71
97
36.62
Washoe/Dresslerville
Douglas
12
64
81
27.56
Pyramid Lake
Washoe
7423
50
71
43.43
Duck Water
Nye
3
31
36
16.13
Duck Valley
Elko
10
466
523
12.35
Walker River
Mineral
11
189
226
19.58
Fallon
Churchill
9
323
381
18.14
Te-Moak – Elko Colony
Elko
12
547
669
22.30
Fort McDermitt
Humboldt
10
108
115
6.98
Te-Moak – South Forks
Elko
27
209
236
13.19
Winnemucca
Humboldt
3
322
448
39.13
Te-Moak – Wells Colony
Elko
18
167
200
19.76
Summit Lake
Humboldt
8
82
82
0.61
Te-Moak – Wells Colony
Elko
19
205
210
2.69
Average:
4,675
5,404
15.59
Partners