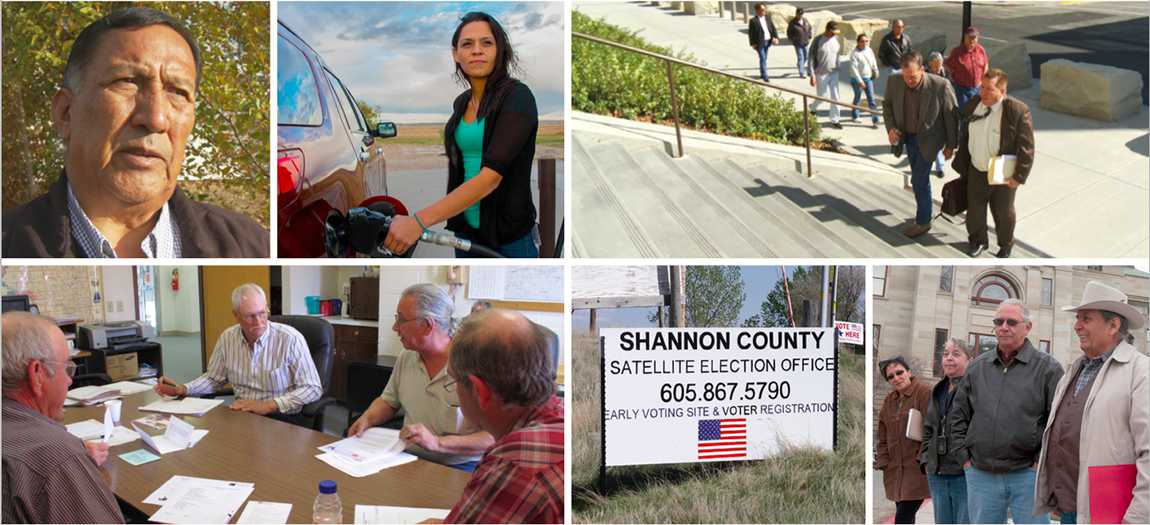 Four Directions: advancing equality at the ballot box across Indian Country
In Lakota culture, the Four Directions represent the way of life we Lakota maintain and the circle of life we individuals participate in to better ourselves and our communities. Times have changed since we went to war to fight for our way of life, our treaties, and our Tribal sovereignty. We now protect our communities and our rights by going to the polls to vote.
Four Directions, Inc., believes voting is within our sacred circle when it comes to preserving our way of life. We are committed to full enfranchisement as a crucial way to navigate a stronger future for our Native communities.
An official partner of the Coalition of Large Tribes, Four Directions has become a nationally renowned voting rights leader. The effort began in 2002 when Rosebud Sioux Tribal members Oliver and Barb Semans organized Native voter registration drives on South Dakota's Indian reservations.
From those humble beginnings, Four Directions has leveraged strong relationships with Tribes in Nevada, Arizona, Montana, North Carolina, Minnesota, North Dakota, and South Dakota to make a critical difference in close federal elections. Four Directions has also partnered with preeminent organizations, including the Lawyers' Committee for Civil Rights Under Law, the American Civil Liberties Union Voting Rights Project, and the National Congress of American Indians, to extend equal access to the ballot box across Indian Country.
Four main priorities anchor the Four Directions approach: Native voting rights, voter empowerment, voter protection, and voter engagement. Our case studies below are organized into these four categories.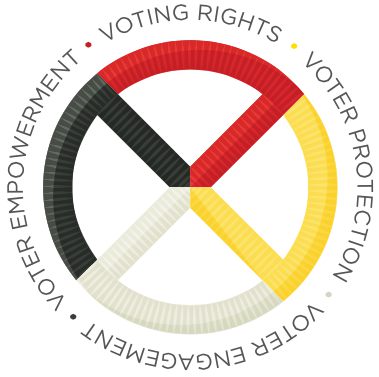 In Montana and South Dakota, Four Directions advanced litigation supported by the U.S. Department of Justice to secure equal access to in-person absentee (often called "early") voting. In South Dakota, Four Directions empowered Native voters through aggressive GOTV operations that nearly doubled Native voter turnout in consecutive federal elections. Four Directions has partnered with lawyers at top law firms such as Pillsbury Winthrop Shaw Pittman for Native voter protection that ensures all Native voters are free from intimidation, coercion, and misinformation. In Minnesota, Four Directions engaged Tribal leaders and local governments across three Indian reservations in five counties to open satellite voting offices for in-person absentee voting.
With the Four Directions approach, Native voters can swing elections, accumulate power, and take their rightful place in the political landscape, thus protecting our treaties, Tribal sovereignty, and way of life.
Four Directions is a 501(c)4 organization. Contributions to Four Directions, Inc. are not tax-deductible for federal income tax purposes and are not subject to public disclosure.
Tribal Acknowledgments
Our Native voter engagement, empowerment, protection, and rights work is made possible with the generous support, strong partnerships, and deep friendships of Tribes across the country.
We give special recognition to the Shakopee Mdewakanton Sioux Community, which has consistently supported the advancement of Native voting rights for all Tribes. The late Chairman Stanley Crooks was well known for his generosity and kindness, but few are aware of his commitment to protecting the voting rights of the Great Plains Tribal members in particular. Because of his vast knowledge of treaties and sovereignty, he had the foresight to build up a Tribal voting bloc to protect our rights. From helping open satellite voting offices across Indian Country to supporting landmark litigation concerning equal access to the ballot box, Chairman Crooks advanced equality for Native voters nationwide. If not for the participation of Chairman Crooks and the entire Shakopee Mdewakanton Sioux Community, none of this would have happened. We are honored to have been able to help implement our shared commitment to Indian Country.
We also want to recognize the Lytton Band of Pomo Indians. As Martin Luther King Jr. said, "Life's most persistent and urgent question is what are you doing for others." That is a question that Chairperson Margie Mejia and the members of Lytton Rancheria have answered repeatedly with empathy and compassion, whether they are helping those with inadequate health care or securing that right which we enjoy as citizens and which empowers all of our remaining rights — the right to vote. Time and again, Chairperson Mejia answered the call to assist the Wandering Medicine plaintiffs and the leaders of Montana, Wyoming, and Idaho Tribes as they worked to secure voting rights for all Native Americans. It should be remembered that it does not matter what we expect from life but rather what life expects from us. We are all questioned by life — daily and hourly. The answer from Chairperson Mejia has always been one of a gift — right action and right conduct.
Since we started our work in 2002, so many other Tribes have joined us in our cause for Native voting rights. We give thanks to everyone we've partnered with for helping protect our treaties, sovereignty, and way of life.
Endorsements
Endorsements to come…
Sponsors
Barona Band of Mission Indians
Fort McDowell Yavapai Nation
Lower Sioux Indian Community
Lytton Rancheria – Lytton Band of Pomo Indians Mille Lacs Band of Ojibwe
Prairie Island Indian Community
Santa Ynez Band of Chumash Indians Shakopee Mdewakanton Sioux Community Sisseton-Wahpeton Oyate
Soboba Band of Luiseno Indians
Tule River Tribe
Viejas Band of Kumeyaay Indians
Program Partners
Blackfeet Nation
Cheyenne River Sioux Tribe
Crow Creek Sioux Tribe
Crow Nation
Fallon Paiute-Shoshone Tribe
Flandreau Santee Sioux Tribe
Fort Belknap Indian Community
Leech Lake Band of Ojibwe
Lower Brule Sioux Tribe
Navajo Nation
Northern Cheyenne Tribe
Oglala Sioux Tribe
Pyramid Lake Paiute Tribe
Red Lake Nation
Reno-Sparks Indian Colony
Rosebud Sioux Tribe
Shoshone Paiute Tribes of the Duck Valley Indian Reservation
Sisseton Wahpeton Oyate
Standing Rock Sioux Tribe Te-Moak Tribe of Western Shosone
Walker River Paiute Tribe
Washoe Tribe of Nevada and California
White Earth Nation
Yankton Sioux Tribe
Yerington Paiute Tribe