2002: Empowering Native Election Judges for Native Voters
"Those who had the most, entrusted their future to those who had nothing. Those who were most disaffected put their trust in a process that more times than not had left them behind."
FRANK LAMERE, WINNEBAGO TRIBAL MEMBER & FORMER DEMOCRATIC NATIONAL COMMITTEE MEMBER
The Problem
Before 2002, only white election judges staffed South Dakota polling locations. The message was clear for Native voters: "We don't trust you."
Far too often, Native voters felt uncomfortable and unwelcome going to the ballot box. For them to have confidence in the process, polling locations on reservations needed judges who were more representative of the population there. But how?
The Solution
Figure out how to use state law to appoint Native election judges for polling locations in Todd, Mellette, and Shannon counties.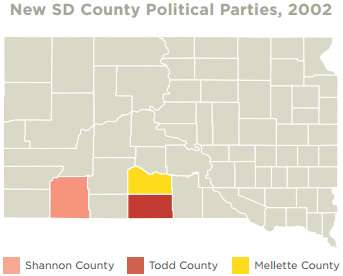 The Four Directions Approach
We combed through state law to determine the election-judge appointment process. We learned that if county political parties were unorganized or chose not to select judges, the county auditor could select his or her own officials. Without organized political parties in Indian Country, county auditors were placing their choices on reservations with a chilling effect on Native voter turnout.
Once we knew the rules, the fix was easy: Help create county political parties in Indian Country. We determined the county party organization rules for both major political parties, and within weeks had helped Native voters organize local parties in Todd, Mellette, and Shannon counties that could select their own election judges.
Result
In 2002, the Pine Ridge and Rosebud Indian Reservations had nearly all Native election judges for the first time. Native voters' trust gap was bridged in time for a decisive general election.
Since then, county auditors in South Dakota have started making sure election judges on reservations across the state are majority Native American. We proved that small interventions build long-term power.