2002: "As the sun rose in South Dakota, so did a new political force."
"In the weak light of dawn Wednesday, Rep. John Thune clung to a narrow lead in the US senate race that the traditional Republican West River stronghold had delivered late the night before. Three hours later, however, Sen. Tim Johnson was re-elected by a 528-vote margin. As the sun rose in South Dakota, so did a new political force. The returns from the Pine Ridge reservation in Shannon County that erased Thune's lead graphically illustrated the importance of the American Indian vote to Democrats."
PETER HARRIMAN, ARGUS LEADER, 11.10.02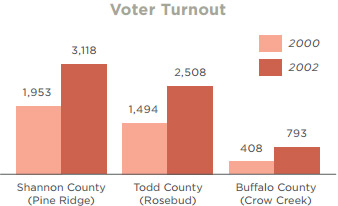 In March 2002, Sicangu Oyate members OJ and Barb Semans led a Native vote effort with a clear idea: empower Native voters so Tribal nations can take their rightful place in the political landscape. Little did they realize that their Native vote effort would be the deciding force behind the 2002 U.S. Senate race.
With the support of Tribal nations from South Dakota, California, and Minnesota, organized labor, and other institutional donors, OJ and Barb set out to train and employ hundreds of Tribal organizers, register thousands of new Native voters, and generate the highest Native voter turnout in South Dakota history. Tribal organizers covered all nine Indian reservations in South Dakota.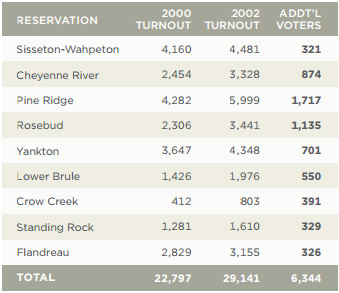 Native voter turnout across the state increased by more than 40 percent in a midterm election, but the results were even more dramatic in the three counties — Shannon, Todd, and Buffalo — with the greatest percentage of Native Americans.
Midterm Native voter turnout in these three counties nearly doubled over the prior presidential election year. Almost without exception, minority turnout drops in midterm elections. In 2002, we reversed the trend.
As a result of Barb and OJ's effort, Native voters made their voice heard in South Dakota elections for the very first time. From this effort, Four Directions was born.